Jeep Rental
This 4 wheel drive Wrangler Rubicon Unlimited Jeep Rental is perfect for traveling through the Rocky Mountains.  Especially, with 4WD (4 wheel drive) to handle any potential snow conditions. Colorado can have some of the most adverse condition.  This vehicle provides the versatility needed to navigate from Denver to the top of the Continental Divide.  Travel in the perfect vehicle while navigating through the Rocky Mountains.  This vehicle helps protect your loved ones by providing the best safety and security in it's class.
Rates: $189 per day / $1099 per week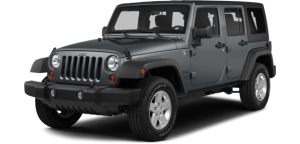 Jeep Specs:
– 5 Passengers
– Cruise Control
– Automatic Transmission
– 4×4 (4 Wheel Drive)
Call: (303) 390-1646
Wrangler Unlimited Rubicon
The Wrangler Unlimited Rubicon is the vehicle others are measured against when it comes to off road capabilities.   The Jeep Wrangler Unlimited Rubicon is truly like nothing else on the road today.  First of all, the vehicle comes equipped with a 3.6 liter V6 engine. The powerful 3.6 liter  puts out a impressive 285 horsepower.  Fuel economy is 17 in the city and 21 on the highway. Beyond it's mechanical capabilities, the interior boasts the highest comfort for it's class.  Finally, the Wrangler features a rugged yet refined interior with 5 passenger seating and cargo space to match it's crew on board.
The Jeep Wrangler and the Wrangler Unlimited were name by 4 Wheeler the "4×4 of the Decade."